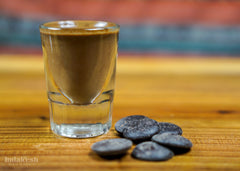 The Awaken Cacao Shot is simply made by mixing our 100%
Cacao Wafers
with just a hint of sweetener; each sip will make your tastebuds dance and keep you feeling perky. Its creamy latte-like texture comes from the
natural cacao butter
in our wafers; there are no added fats or oils.Indulge in the purity of this elixir, knowing that pure cacao is full of
minerals
,
antioxidants
, and
mood-boosting theobromine
.
— Enjoy the deep, bold flavor of dark chocolate —
This elixir is like the authentic, midnight version of your childhood '
hot cocoa
' drink. The rich, dark flavor of 100% cacao is whipped with a just enough sweetness to find the perfect medium between intensity and confectionery.
---
Recipe Overview

Title
Awaken Cacao Shot
Chef
Imlak'esh Team
Prep Time
2 min
Cook Time
3 min
Yield
16oz (8 shots)
Ingredients:
16oz hot water
2 tbsp coconut nectar
pinch sea salt (recommend vanilla sea salt)
Optional: 3 drops of peppermint extract
Directions:
Add all ingredients into blender
Blend on high for 1 – 2 mins, until fully consistent
Pour into shot glasses
Cheers
Elixir Shots also make great drinks, so don't be afraid to make yourself a full cup!Note: We always suggest adjusting the sweetness level to your own palette.