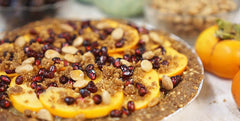 Tis the season for gathering round the table with your friends and family to share good food and gratitude! This holiday season, bring a delicious, healthy dessert that actually nourishes the people you love.This Persimmon 
Sacha Inchi
Pie recipe incorporates superfoods into a satisfying treat: it boasts complete protein, Omega 3s, fiber, vitamins and minerals!
---
Recipe Overview

Title
Persimmon Sacha Inchi Pie
Chef
Kathleen Tan
Prep Time
60 min
Cook Time
30 min
Yield
9in pie
Ingredients:
Crust
2 cups of Sacha Inchi Seeds
1 cup (about 9 dates) of Medjool Dates (pitted)
1 tbsp of Pumpkin Spice
1 tbsp of Cinnamon
1 tsp of Vanilla
Filling
1/3 cup of Chia Seeds
1 cup of Water
2 medium Persimmons
3 Dates
Toppings
Persimmons
Pomegranate Seeds
Cinnamon
Directions:
For the Crust: Combine all crust ingredients in food processor and blend together until it forms into a paste consistency. Press into a pie pan.
For the Filling: Soak chia seeds in water for at least 1 hour, stirring every 10-20 minutes (until pudding consistency). Then blend chia pudding with 2 persimmons and 3 dates. Place filling atop Sacha Inchi crust and let it set in the fridge for at least 1 hour.
Top off the pie with your favorite toppings! We suggest slicing up persimmons horizontally, sprinkling Sacha Inchi seeds and Pomegranate seeds. Enjoy!!