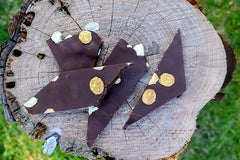 Share heaps of homemade Superfood Chocolate with your friends and family! We came up with a super simple and simply delicious recipe you can recreate in 5 steps, using Imlakesh Cacao Wafers. This treat will literally boost your mood thanks to compounds like anandamide, which promotes heightened sensitivity and feelings of euphoria. Bring it to family reunions and holiday parties, or gift them to friends and lovers.
---
Recipe Overview

Title
Homemade Superfood Chocolate (with Maca & Sacha Inchi)
Chef
Mama Hayes
Prep Time
10 min
Cook Time
15 min
Yield
8 servings
Ingredients:
1 cup of Imlak'esh Organics Cacao Wafers
6 tablespoons of Honey (can be substituted with Agave or Maple Syrup for vegan option)
1 teaspoon of Vanilla Extract
1 tablespoon of Imlak'esh Organics Maca Powder
1/2 cup of Coconut Oil
1/2 teaspoon of Sea Salt
A Handful of Imlak'esh Organics Sacha Inchi
Directions:
Melt Cacao Wafers in a double boiler (or on saucepan with very low heat to preserve nutrients).
Add Coconut Oil to warm mixture until it liquefies.
Mix in Honey, Maca, Vanilla Extract, Sacha Inchi, and Sea Salt.
Pour the chocolate mixture onto a mold or tray.
Refrigerate for 30 minutes, or until you are ready to share and enjoy!
 This recipe makes 8 servings. Double it to make more to share!
Get creative in the kitchen and make this recipe your own!
If you like coconut, throw in some shredded coconut to the mixture for extra satisfying sweetness.
If you want to kick it up a notch, add some cayenne pepper powder or even habanero powder for a contrasting spiciness.
Cinnamon is also great to add during the holiday season.
You can even pour the chocolatey mixture over raisins or Goji berries for a chocolate covered treat!