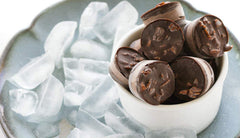 Cacao Coated Mocha Ice Cream Bites? Yes please! Thank you, Annie of
An Unrefined Vegan
, for sharing this amazing recipe! This refreshingly cold, chocolatey treat made from superfoods will tame the wildest sweet tooth — this unprocessed dessert made with 
Cacao Powder
and coconut milk is as healthy as desserts get. Yum!
---
Recipe Overview

Title
Cacao Mocha Ice Cream Bites
Chef
An Unrefined Vegan
Prep Time
30 min
Cook Time
30 min
Yield
15 ice cream bites
Ingredients:
Cacao Chocolate:
1/2 cup Imlak'esh Organics Cacao Powder
1/4 cup full-fat canned coconut milk
1/2 cup virgin coconut oil, melted
1 tsp. vanilla extract
1 tsp. pure maple syrup (or honey)
1/4 cup finely chopped nuts
Mocha Filling: 
1/4 cup white beans, rinsed and drained
2 tbsp. tahini
2 tbsp. Imlak'esh Organics Cacao Powder
2 tbsp. pure maple syrup (or honey)
1 tbsp. espresso powder
1/2 tsp. vanilla extract
Directions:
Creating the Chocolate
Set a 15 mini-muffin silicone tray on a baking sheet or other sturdy surface (such as a cutting board). Set aside.
In a small bowl, whisk together all of the chocolate ingredients – except for the nuts.
Divide half of the chocolate between the muffin cups.
Place the tray (that is on top of the board) into the refrigerator while you prepare the filling.
Form the Filling
Combine all of the filling ingredients in a food processor and mix until silky smooth. Scrape down the sides a few times to make sure you've incorporated all of the bean and cacao bits.
When the chocolate in the freezer has hardened, remove it from the freezer and divide the filling between the cups. Tap the board/silicon mold on the counter a few times to evenly distribute the filling. Place back in the freezer and let set until hardened. Should be less than an hour.
If the remaining chocolate mixture has hardened, gently re-melt it. Stir in the chopped nuts. Remove the silicon form from the freezer and ladle on the remaining chocolate/nut mixture. Again, tap if necessary to evenly distribute the chocolate over the filling. Place back in the freezer to harden. This really goes fast since the filling itself is cold and will start to freeze up the chocolate topping.
Once completely firm, they'll be ready to enjoy and share!