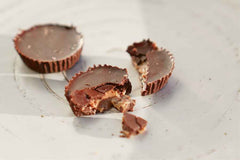 With the holidays right around the corner, now is the perfect time to share the true spirit of Cacao with the ones you love. Let's skip the high-processed, artificial chocolates this year for a spin on the classic peanut butter cup everyone can feel good about!
This Keto Cacao Almond Butter Cup recipe uses fair-trade, 100% pure heirloom Cacao Wafers: rich with antioxidants, minerals, and alkaloids that help support energy and mood.
Think you could handle an even bigger boost to your mood and vitality? Just a dash of Maca Powder to these super simple, no-bake Cacao Almond Butter Cups will help reduce stress, balance hormones, and increase stamina and libido.
---
Recipe Overview

Title
Keto Cacao Almond Butter Cups
Chef
Emily Rogers
Prep Time
30 min
Cook Time
20 min
Yield
30 cups
Ingredients:
Cacao Base
3/4 cups of Imlak'esh Cacao Wafers
1 tbsp of Maca Powder
1/4 cup of Coconut Oil
10 drops of Stevia or Monk Fruit
Pinch of Salt
Filling
1/3 cup of Almond Butter
1/4 cup of Coconut Oil
7 drops of Stevia or Monk Fruit
Directions:
For the Cacao Base: In a double boiler, mix Cacao Wafers and coconut oil, stirring every few minutes (until blended and melted).  Then add Maca Powder and stevia.  Line mini cupcake pan with 24 cupcake liners and spoon the first layer of chocolate into the cups. Place pan in freezer to harden for less than 5 mins.   Leave the double boiler on simmer.
For the Filling:  Spoon almond butter into each cup.  Use the rest of the Cacao to apply the second layer.
Top with delicious and decorative toppings like salt, cacao nibs, goji berries, or dried rose petals!  Enjoy!!