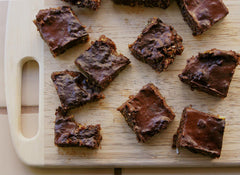 This Vegan, Gluten-Free Raw Espresso Brownie recipe by
Rachel Katz
of The Full Life
is one of our favorite treats! Made with real ingredients and no processing, you can enjoy this decadent dessert completely guilt-free. Packed with
Cacao Powder
,
Cacao Nibs
, and espresso, this treat will keep your energy levels high and your bliss-o-meter off the charts!
---
Recipe Overview

Title
Raw Espresso Brownie
Chef
The Full Life by Rachel
Prep Time
25 min
Cook Time
20 min
Yield
1 large tray
Ingredients:
Brownies Base:
15 medjool dates with 1/4 cup water
1/2 cup pistachios
1/2 cup almonds or walnuts
2 tsps Imlak'esh Cacao Powder
2 tsps Imlak'esh Cacao Nibs
2 tsps maple syrup
1 tsp melted coconut oil
1/4 tsp cinnamon
pinch of himalayan salt
Raw Chocolate Sauce: 
Directions:
Brownies
Blend/ process medjool dates with water.
Add in nuts and cacao powder, and blend everything together. For smooth/fudgy brownies, blend until there are no chunks. Otherwise, blend for too long to keep it chunky.
Pour into a large bowl and and add in the rest of the ingredients—mix thoroughly. Using your hands is the most efficient way to do this.
Pour mixture into a baking dish, pat down with hands, and freeze for about 20 minutes. Make sauce while waiting.
Chocolate Sauce
Warm up all of the ingredients in a pan for about 2 minutes. You can add more ingredients as you go along—just keep tasting the chocolate sauce until you achieve the perfect taste and consistency.
Let the sauce cool and pour over the brownies. Freeze again for another 20 minutes.
Cut into brownie pieces, and keep the brownies in the fridge for a healthy dessert!