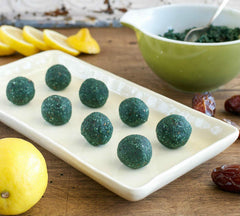 Happy Saint Patrick's Day! In celebration, we're sharing these Raw Lemon-Coconut Spirulina Balls from Annie of
An Unrefined Vegan.
These little balls of bliss are packed with nutrients and bursting with deliciousness!
Spirulina
is one of the most nutritionally complete superfoods on the planet. It is a freshwater algae that contains a spectrum of vitamins and minerals, and it is a complete protein.In this recipe, the spirulina adds a gorgeous green color (perfect for St. Patty's) while the dates, coconut, and pecans make it a sweet treat that all your friends will want to eat! The lemon adds a splash of brightness that complements the sweetness perfectly. Enjoy!
---
Recipe Overview

Title
Raw Lemon-Coconut Spirulina Balls
Chef
An Unrefined Vegan
Prep Time
10 min
Cook Time
60 min
Yield
10-12 balls
Ingredients:
1 cup raw pecan pieces
1 cup chopped dates
1/2 cup unsweetened raw coconut flakes
2 tbsp. hemp seeds
2 tbsp. fresh lemon juice
2 tbsp. coconut milk
1 tbsp. Imlak'esh Spirulina
Directions:
Put the pecans and dates into the bowl of a food processor and pulse until broken down into small pieces.
Add the remaining ingredients and process until smooth. You will need to scrape down the sides of the bowl a few times. The mixture will form a ball.
Scrape the mixture into a bowl, cover with plastic wrap and refrigerate for an 1-2 hrs.
Using a small spoon, scoop up about 1 heaping teaspoon of the mixture and roll into a ball. Place in an air-tight container. Continue with the rest of the mixture and store the balls in the refrigerator.