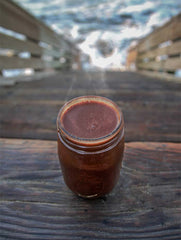 A delightful drink that delivers a bold flavor & thickness that only comes from using 100% Cacao Wafers. Try this as an alternative to your morning coffee or generic 'hot cocoa'.
⚠ Warning — This hot chocolate will make ya' go baa'zing!
Enjoy the natural feel good vibes and energizing effects of organic, raw cacao in its pure form.
---
Recipe Overview

Title
Real Hot Cacao
Chef
Tucker
Prep Time
2 min
Cook Time
4 min
Yield
1 serving (large mug)
Ingredients:
1 tbsp sweeter (ex. honey)
2 cups hot water
pinch sea salt
Directions:
Add all ingredients into blender
Blend on MED for 30 seconds
OPTIONAL: add 1 drop of peppermint oil and stir
Make sure to pour the hot cacao into your favorite mug, close your eyes, and enjoy.