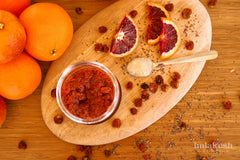 We're stoked to bring you this (Golden) Berry Orange Marmalade: it's fresh, bright, and bursting with flavor! One spoonful of this sweet, tart treat is like swallowing a drop of golden sunshine. Made with no sugars or preservatives, this raw recipe is packed with vitamins and minerals to keep you nourished and vibrant!
Golden Berries are one of our favorite superfoods! We think of them as 'Nature's Sour Candy.' And yes, they are just as addictive as candy. Belonging to the same botanical family as the tomatillo, one handful contains Antioxidants, Vitamin A & Vitamin C. Add some oranges to the mix, and you've got a recipe bursting with nutrients that will fortify your immune system throughout the flu season.
---
Recipe Overview

Title
Golden Berry Marmalade
Chef
Kathleen Tan
Prep Time
30 min
Cook Time
30 min
Yield
20oz (22 tbsp)
Ingredients:
Optional Spices:
1/2 tsp salt
1/2 tsp ground cinnamon
1/2 tsp vanilla extract
pinch of nutmeg
pinch of cardamom
Directions:
Soak Golden Berries in hot water for 30 minutes. Set aside.
Segment Oranges using this technique.
Pulsate soaked Golden Berries, Oranges and Honey in blender (keep chunky).
Add Chia Seeds to blender and pulsate (keep chunky).
Pour into a small Imlak'esh Jar and let it set in the refrigerator for 30 minutes.(check consistency and sweetness. If the spread is too watery, add more chia seeds — one tbsp at a time.  If needed, add more honey — one tsp at a time)
Serve with toast or as topping on dessert.  Garnish with raw golden berries.
Have an empty Imlak'esh jar? This recipe makes enough to fill a 16 oz jar! This marmalade keeps for 1 week in the refrigerator.This raw marmalade is very easy to make and even more delicious to enjoy. Plus, it's packed with vitamins that make it a nourishing addition to any meal. Mix it in yogurt, spread it on toast, bake it with brie, top on desserts, blend it in dressings, add it to ice cream, or pair it with meats. The possibilities are endless!