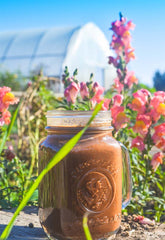 The harmony of yerba maté, cacao, and maca will increase your focus and keep you high-energy the whole day through. HippyZippy™ is a naturally caffeinated drink is a great alternative to coffee.
Yerba maté, Cacao Powder, and Maca Powder also pair to support a healthy metabolism, while offering an abundance of antioxidants and minerals. Stay perky all day sipping on the Imlak'esh Crew's favorite drink! 
---
Recipe Overview

Title
HippyZippy™
Chef
Tucker
Prep Time
5 min
Cook Time
3 min
Yield
2 servings
Ingredients:
Directions:
Add all ingredients into blender
Blend on HIGH for 30 seconds
Serve HOT or over ICE
Make sure to pour the hot cacao into your favorite mug, close your eyes, and enjoy.