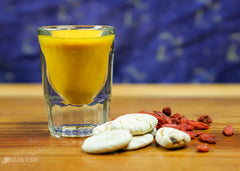 Macambo
and 
Goji Berries
 make a unusually
sensational elixir
— its beautiful golden coloring is equally matched by its
rich, festive flavor
. This pairing is not only delicious, it offers a fully spectrum of benefits:
high protein
,
antioxidants
,
theobromine
, and
healthy fats
.
---
Recipe Overview

Title
Longevity Shot
Chef
Mama Hayes
Prep Time
2 min
Cook Time
3 min
Yield
16oz (8 shots)
Ingredients:
16oz hot water
1/3 cup Macambo
1/3 cup Goji Berries
1 tbsp coconut nectar
1/2 tsp cinnamon
1 tsp of coconut oils
pinch sea salt (recommend vanilla sea salt)
Directions:
Add all ingredients into blender
Blend on high for 1 – 2 mins, until smooth
Pour into shot glasses
Cheers
Elixir Shots also make great drinks, so don't be afraid to make yourself a full cup!
Note: We always suggest adjusting the sweetness level to your own palette.