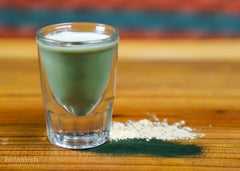 The bold combination of
Spirulina
,
Maca
, and
cashews
makes for a spectacular elixir of impressive texture and distinct taste. Its enchanting green hue is quickly juxtaposed by its soft, sweet flavor, loved by people of all ages.Disguised behind the creaminess of this elixir is a complexity of
vitamins & minerals
,
antioxidants
, and
hormone-balancing
benefits.
---
Recipe Overview

Title
Maca Green Shot
Chef
Mama Hayes
Prep Time
2 min
Cook Time
3 min
Yield
16oz (8 shots)
Ingredients:
Directions:
Add all ingredients into blender
Blend on high for 1 – 2 mins, until fully consistent
Pour into shot glasses
Cheers
Elixir Shots also make great drinks, so don't be afraid to make yourself a full cup!
Note: We always suggest adjusting the sweetness level to your own palette.