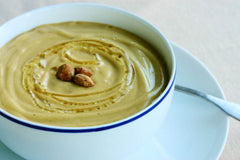 Also known as "Incan Peanuts,"
Sacha inchi Nuts
are solid source of protein and the best vegan source of plant-derived omega 3 oils on the planet. This simple, but deeply nourishing soup from Gena of
A Full Helping
is one of our favorite recipes that highlight the rich nuttiness and umami flavor of the Sacha Inchi Nut.
---
Recipe Overview

Title
Sacha Inchi Acorn Squash Soup
Chef
The Full Helping
Prep Time
45 min
Cook Time
60 min
Yield
2-4 servings
Ingredients:
2 acorn squash
1 tbsp coconut oil
1 yellow onion, finely chopped
Sea salt salt and ground pepper
1 3/4 cups organic vegetable broth
1/4 cup hemp, almond or other nut-based milk
Directions:
Preheat oven to 450 degrees. Slice squash in half along the equator and scoop out the seeds with a spoon. Line a baking sheet with aluminum or parchment, and place the squash, skin-side-down, onto the baking sheet. Sprinkle with salt and pepper. Roast for 35-45 minutes, or until the squash is very tender and skin can be pierced with a fork. Roast in oven for 45-50 minutes, or until flesh is tender and skin is starting to turn golden brown. Remove from oven and allow to cool. Once it cools, scoop the flesh out of the skin and set the flesh aside (you can discard the skin).
Heat oil in a pan over medium heat. Add the onion and saute until golden and tender (about 10 minutes)
Transfer the onion and squash to a blender. Add the broth, nut milk, and Imlak'esh Sacha Inchi Seeds. Blend till very smooth, season to taste with salt and pepper, and blend again. Serve warm, with a drizzle of oil and extra seeds as garnish!